VRM & CRITICAL GEAR BOX DIVISION
We at SP INSITU understand the need for quality and cost effective services towards VRM and Critical Gear-Boxes operating in Cement Industry and other facilities. In line with the customer requirements, we have established a separate Service Section handled by a team of Gear-Box Experts.

With over 15years of experience in the respective field the team is highly specialized in VRM and Ball Mill Gear-Box Drives with close association, training and working under the Gear-Box majors Like Renk, Maag, Flender & Ube.

Our Team Leader had also worked with one of the major Cement Group, and had visited most of the sites across India for Commissioning, Defect Rectification and Rehabilitation of all the Critical Gear-Boxes. During this tenure, we have implemented the "State of Art" on-line Monitoring Systems in all VRM Renk Gear-Boxes and has also carried out In-House Maintenance Activities of all Renk, Maag and Flender Gear-Boxes, thus ensuring cost saving measures for various Industries.

Our team has extensive exposure in working with KPBV, PBLZ types of Renk gear-boxes, WPU & CPU types of Maag gear-boxes and KMP type of Flender gear-boxes in various Cement Plants. Our services have been well appreciated by Customers. We maintain a good rapport and work in association with all gear box OEMs.

In order to full fill our customer's requirements we offer following services which are handled by our strong team of gear-box experts.

1. INSTALLATION & COMMISSIONING
2. GEAR BOX SAFETY DEVICES CONFIGURATION
3. ANNUAL INSPECTION
4. SIX-MONTHLY INSPECTION
5. RUNNING HOURS BASED INSPECTION

6. DEFECT ANALYSIS & RECTIFICATION
7. BREAK DOWN REHABILITATION
8. PREVENTIVE REHABILITATION
9. CONDITION MONITORING


10. HOT LINE COMMUNICATIONS
11. LONG TERM PRESERVATION
12. ON LINE MONITORING
13. CONDUCTING TRAINING AT SITE
14. DOCUMENTATION / RECORDS / FEED BACK















TRAINING
Our team leader is a good trainer and has conducted many training programs on VRM and other Critical gear-boxes involving onsite related topics which has been proved beneficial to the customer.

VRM & BALL MILL GEAR-BOXES

We are proud to mention that we at SP INSITU are capable to handle high capacity single-stage and double-stage planetary Mill Gear-Boxes of RENK, MAAG, Flender, UBE and other makes. Our gear-box experts are highly trained in offering guaranteed professional support to the customer during routine/emergency services, gear unit inspections and during overhaul and assembling.
We carryout preventive maintenance activities in all types of gear-boxes prescribed in OEM technical manual along with additional activities considering the past operational characteristics of the equipments, besides identification of damages before breakdown of the system.


ANNUAL MAINTENANCE / INSPECTION / PHM CHECKS ON CRITICAL GEAR BOXES

A simple but comfortable concept for maintenance activities - using a specified frame of cost – shall be given to the customer.
Immediate at-site-support by our service engineers is granted.
Management of replacement of aged and/or obsolescent items in consultation with OEM
Upkeep and maintain all the records and data for future reference.
Scheduled reporting about the plant's condition
Our inspection comprises measurement of the vibrations of large gear units, assessment of tooth impressions and a visual inspection of the condition of the gear.

We do visual inspection and perform various measurements and check the condition of spares and gear unit parts. Any developing damage detected at an early-stage is remedied. Through regular inspection, signs of wear and tear can be observed and upcoming overhauls can be properly planned. This significantly reduces the risk of a breakdown and a loss of production.
The customer can actively ensure a long life for the gear system by having it overhauled periodically by us. The gearbox will be removed and carefully examined on site or in a local workshop. Damaged wear parts are replaced. We ensure a renewed and a reliable gear unit for operation.

The below photographs shows our capability to handle the high capacity gear boxes of VRM & critical gear boxes:

| | | |
| --- | --- | --- |
| | | RAW MILL SINGLE STAGE GEAR UNIT - REHABILITATION IN PROGRESS |
| | | ANNULUS GEAR IS BEING REMOVED FROM THE SINGLE STAGE PLANETARY GEAR UNIT FOR COMPLETE REHABILITATION |
| | | REHABILITATION OF BALL MILL CENTRAL DRIVE TWO STAGE PLANETARY GEAR BOX |
| | | SINGLE STAGE PLANETAY COAL MILL GEAR-BOX TRIAL RUN |
| | | Shrink Fitment of Thrust Plate in progress – Single Stage Planetary Gear-Box |
| | | MODIFICATION CARRIED OUT ON THE INPUT BEVEL PAIR AND INTERNAL LUBE OIL PIPES IN RAW MILL GEAR BOX SINGLE STAGE GEAR-BOX |
| | | ONE OF THE TWO STAGE PLANETARY VRM CEMENT MILL GEAR BOX BEING REMOVED FOR DEFECT RECTIFICATION |

WIND MILL GEAR-BOX

In line with the interest of our esteemed wind mill customers we have expanded our facility to rehabilitate all types of wind mill gear-boxes. Our gear-box experts have also visited different wind mill sites for service oriented activities of wind mill gear-box. We are capable of replacing the gear components of any make if found damaged.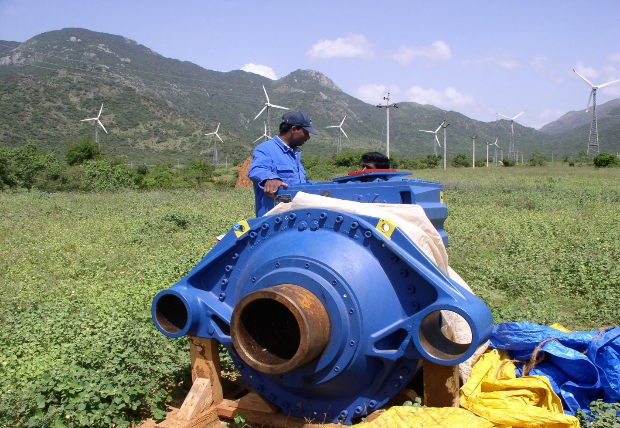 On site inspection –Wind Mill Gear-Box

ON-LINE MONITORING SYSTEMS OF VRM & CRITICAL GEAR BOXES
We have a very good relation with one of the on-line monitoring experts from Germany. The parameters will be monitored in real-time and Equipment Health Report will be generated periodically. It gives preinformation about the deteriorating condition of the gear unit.
The package includes supply / installationof components and commissioning of online monitoring system in VRM & other critical gear units. These on-line monitoring equipments are installed and are proved vital for VRM & other critical gear-boxes operating in major cement group in India.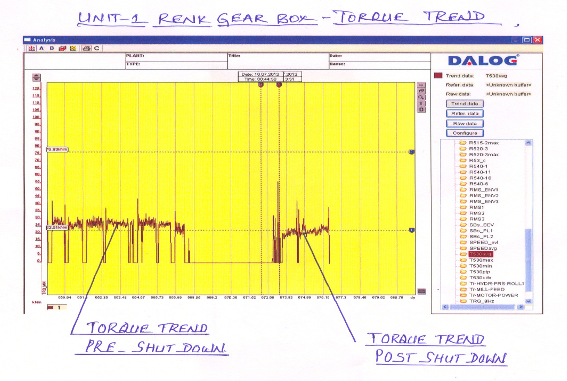 Salient Features:
The software is easy to use | Easy data visualization | Easy data storage | Vibration trend analysis | Torque event analysis | Process event analysis

Advantages of On-line Monitoring:
Long term monitoring | Frequency selective online data analyzing | Online and offline data monitoring | Instant Alarms: Very early recognition of beginning gear or bearing failures | Instant overload and critical operational alarms | Impact alarms | Fault detection of grinding table and rollers.

Benefits to the user:
Continuous monitoring of all parameters | Disclosure of problems and malfunctions in time | Records for analysis and diagnosis | Avoidance of consequential damages and production loss | Optimized planning of maintenance activities | Improved availability of the complete production line | Reasonable relation of investment and benefits

Training:
We conduct training programs for local maintenance personnel to enable them to keep the gear units in shape. Our training programs are customer friendly and deal with site related topics which have been proved beneficial to customers. We conduct the training programs either at customer's site or at any centralized location. We have conducted one such fully fledged training program at one of the major cement sites and gear box production unit.

The general topics we cover for training program spanning for two days are as follows:
Gear unit types | Construction details | Operation & Maintenance | Lubrication systems | Gear unit auxiliaries | Instrumentations | Condition monitoring and
Case studies.